Performs its production at its facility with an area of 8000 sqm's in Kemalpasa, Izmir/Turkey.
With over 30 years of experience, dynamic and experienced workforce, up to date mold production machines; Zirve Kalip produces quality and long lasting molds to its domestic and overseas customers, conforming to the internationally accepted quality standards worldwide.
Zirve Kalip manufactures a wide variety of molds with an integrated operation of its in house design, process and other technical departments.
The mold types can be listed as;
Clean Water Pipe Fitting Molds
Waste Water Pipe Fitting Molds
Reservoir and Drain Group Molds
Infrastructure / Sewer Pipe Fitting Molds
Polyethylene Pipe Attachment Molds
Agricultural Irrigation Pipe Fitting Molds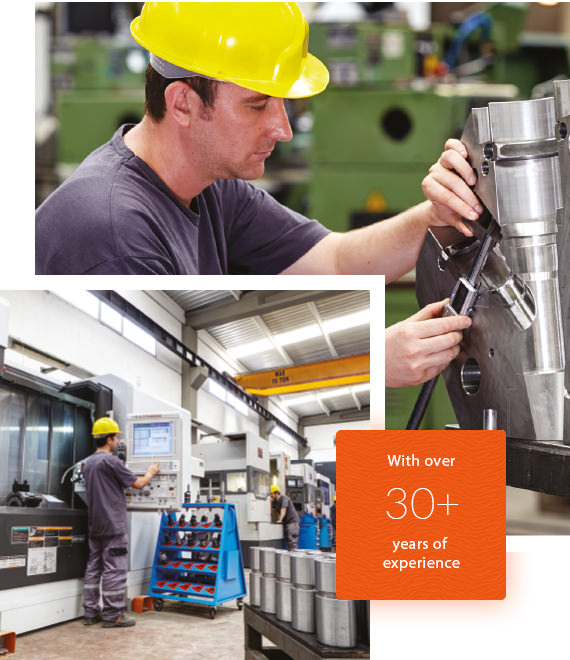 Mold Design and Production Technology
The first stage of production is the design of the desired mold with CAD software in accordance with customer needs and demands.
The mechanical structure of all elements forming the mold is completed during the design phase and the required data is made ready to CNC Programming (CAM Programming / Surface Treatment) and for production. Then a prototype is produced for customer examination.
After completion of mold design process, the information about of the mold set is processed by CAM programs and defined to CNC program for production. All mold parts are processed by the CNC machine operators and afterwards mold is prepared for assembly.
All manufactured parts and standard required materials are assembled and transferred to plastic injection department to be tested.
Quality Standards, Mold Testing and Mold Renovation Service
Processed the molds are subjected to mechanical, technical, work performance controls and quality testing. The molds conforming the necessary qualifications are tested on in-house plastic injection machines.
The qualified molds undergo a second testing at customer's site and delivered to customer. In addition of its manufacturing, Zirve Kalip also provides mold maintenance and repair services to its customers.
Maintenance and repair service is carried out on-site or in our own plant depending on conditions and are delivered with a proper renovation guarantee.
Corporate Aims
Working with a total customer satisfaction principle, Zirve Kalip continues its innovative and up to date investments to provide better quality mold manufacturing and R & D services to its customers worldwide.